Facebook Marketing Training
Book your slot NOW! to attend the Facebook Masterclass training taking place from 7th – 9th November.
The registration instructions are below.You can also find more information about what you'll gain from the training at the end of this page.
Facebook Marketing Training: Registration and Course Outline
What to Expect from the Training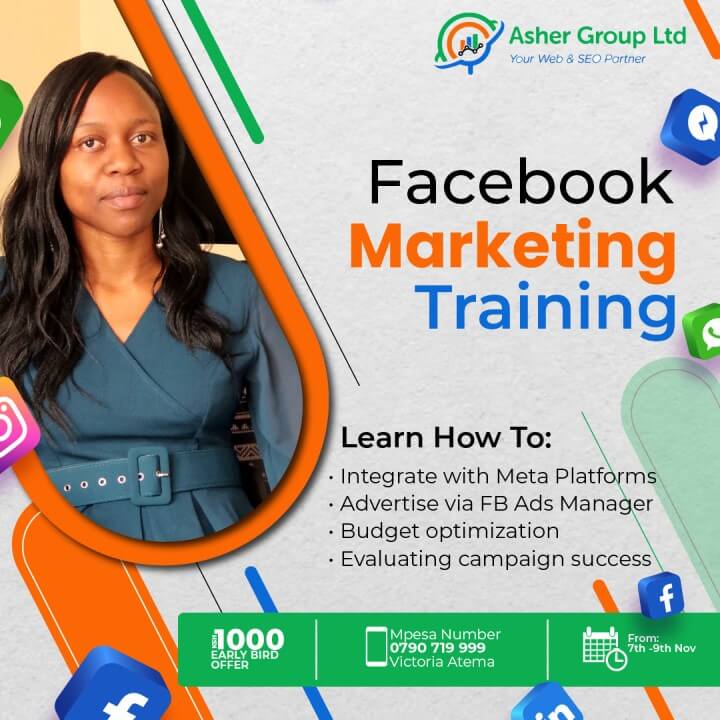 About Me
You can take a moment to know me before we work together.
👋 Hi. My name is Atema Victoria. I am not your ordinary digital marketing trainer – I'm your digital success enabler. With over 5 years' experience supporting businesses to evolve their digital marketing landscape, I am here to help you grow your brand in the online space as a business
🌟 Why you should partner with Me!
I don't just enjoy theoretical teaching; I'm also about results. My unique approach focuses on actionable strategies and hands-on experiences to guide you on strategies that that will drive success. Your success is my success, and I'm dedicated to helping you achieve it. Whether you are a business owner or thinking about starting a business, my training is tailored to your digital growth needs
🎯 My Digital Marketing Expertise.
I specialize in digital marketing strategy. This includes, Social media management, Social media ads and Google Ads, Content marketing and Search Engine Optimization (SEO). You can trust me to hold your hand in building your brand and growing your revenues in the digital marketplace.
🌟 Some of my clients include:
Obee – An online shop
Hands of Care and Hope – NGO
Turkey dresses – Clothing boutique
Tamarisk enterprises – Building appliances
Asher Kids Store – Online kids store
✉️ Lets Get Started.
Let's embark on this exciting journey of growing your business together through digital marketing!